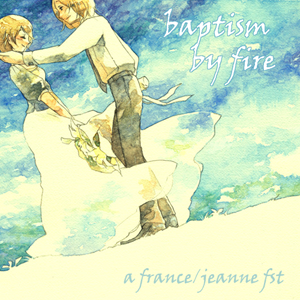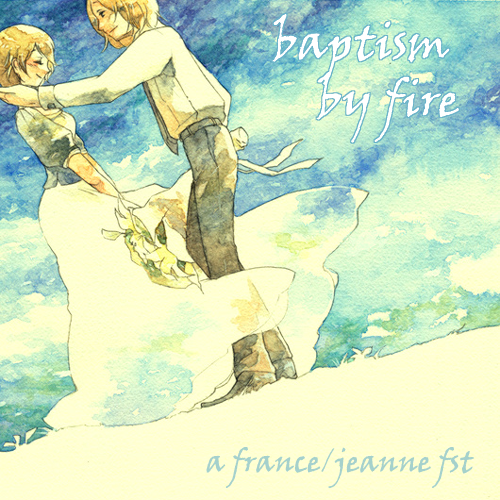 Too lazy this time for a back cover, sorry guys.

You Will Be My Ain True Love - Alison Krauss

France ⟷ Jeanne
The field is cut and bleeds to red
The cannon balls fly round my head
The infirmary man may count me dead
When I've gone to find my ain true love


I Belong To You/Mon Cœur S'ouvre à Ta Voix - Muse

France ⟶ Jeanne
How much pain has cracked your soul?
How much love would make you whole?
You're my guiding lightning strike


Another Lonely Day - Ben Harper

Jeanne ⟶ France
Yesterday seems like a life ago
Cause the one I love today I hardly know
You I held so close in my heart, oh dear
Grow further from me with every falling tear


Thank You - Dido

France ⟷ Jeanne
And I want to thank you
For giving me the best day of my life
And, oh, just to be with you
Is having the best day of my life


Ma Bella Evangeline - Princess and the Frog OST

France ⟶ Jeanne
To someone as beautiful as she
Who loves someone like me
Love always finds a way, it's true
And I love you Evangeline


Unafraid - Young Love

France ⟷ Jeanne

When you're alone
Surrounded by horizon, time stretches out
For a newborn sun to shine on and on
And in the end you will return to me
Following the path of the spirits that have surrounded you


18th Floor Blacony/It's Just Me - Blue October

France ⟶ Jeanne
And I raised my hand as if to show you that I was yours
That I was so yours for the taking
I'm so yours for the taking
That's when I felt the wind pick up
I grabbed the rail while choking up
These words to say and then you kissed me


Lovers In A Dangerous Time - Barenaked Ladies

France ⟷ Jeanne
Don't the hours go shorter as the days go by
We never get to stop and open our eyes
One minute your waiting for the sky to fall
The next you're dazzled by the beauty of it all


Girl On The Wing - The Shins

France ⟶ Jeanne
One wound up punch of intuition
Lays flat my whole take on us
You're the girl on the wing of a barnstormer
The tidal rabbit who came of age before her time


I'm Not Over - Carolina Liar

France ⟶ Jeanne
Never took the chance
Could have jumped the fence
But was scared of my own two feet


Someone To Die For - Jimmy Gnecco

Jeanne ⟷ France
Before you landed
I had a will but didn't know what it could do
You were abandoned
And still you're handing out what you don't want to lose
You make me drop things
Like all the plans I had for a life without you


Please Don't Tell Her - Jason Mraz

France ⟶ Jeanne
She was the girl with the broadest shoulders
But she would die before I crawled over them
She is taller than I am
She knew I wouldn't mind the view there
Or the altitude with a mouth full of air
She let me down the doubt came out until the now became later


Hear You Me - Jimmy Eat World

France ⟶ Jeanne
What would you think of me now?
So lucky, so strong, so proud
I never said thank you for that
And now I'll never have a chance


Intervention - Arcade Fire

France ⟶ Jeanne
I can taste your fear
It's gonna lift you up and take you out of here
And the bone shall never heal
I care not if you kneel


I Will Follow You Into The Dark - Death Cab For Cutie

Jeanne ⟶ France
You and me have seen everything to see
From Bangkok to Calgary
And the soles of your shoes are all worn down
The time for sleep is now
It's nothing to cry about
Cause we'll hold each other soon


Seasons in the Sun - Terry Jacks

Jeanne ⟶ France

Goodbye my friend, it's hard to die
When all the birds are singing in the sky
Now that the spring is in the air
Pretty girls are everywhere
Think of me and I'll be there

The full fst.



...I think my otp bias is showing.